Close
Select a product line: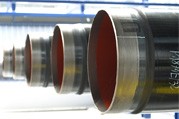 Anticorrosive coatings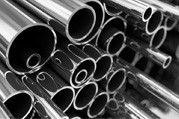 Steel pipes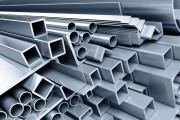 Metallurgical products
General Conditions of Sale
Three layer polyethylene
A
A
A
3LPE anticorrosive three layer polyethylene coating conforming to DIN 30670:2012
This anticorrosive coating consists of the following layers:
epoxide layer of minimal thickness of 60 μm,
polyethylene copolymer layer of minimal thickness of 140 µm,
polyethylene layer of minimal thickness between 1.8 and 3.2 mm or polypropylene layer of minimal thickness between 1.8 and 2.5 mm.
Izostal S.A. manufactures coated steel pipes of diameter between 21,3 and 1220 mm and length between 8 and 18 linear metres; moreover we provide coating services with reference to pipes delivered by our customers.

Coating process may be divided into the following stages:
grit blasting of the steel pipe surface to Sa 2 1/2 in line with PN-EN ISO 8501-1:2008,
induction heating of the pipe up to 180-200°C,
electrostatic spraying of epoxy powder on preheated pipes,
electrostatic spraying of polyethylene or polypropylene copolymer powder,
ring extrusion of polyethylene or polypropylene sleeve,
coating cooling with water,
machining of the pipe ends,
temporary rustproofing of pipe ends with anticorrosive lacquer.

Typical features of the three layer anticorrosive coatings applied on steel pipes include the following:
high resistance to mechanical damage,
resistance to chemical substances, moisture, breakdown, high temperature and UV radiation,
good adhesion of the coating to steel pipe surface,
anticorrosive protection of underground pipelines for approximately 50 years,
complete protection of steel pipe welds,
easy connection of coated pipes without damaging the coating,
the coating is neutral to the natural environment.
Material type
Coating type
Coating thickness depending on the outer diameter of pipes
33,7-114,3 mm
133,0-273,0 mm
323,9-559,0 mm
610,0-762,0 mm
813,0-1220 mm
Polyethylene
N-n, S-n N-v, S-v
1,8 mm 2,5 mm
2,0 mm 2,7 mm
2,2 mm 2,9 mm
2,5 mm 3,2 mm
3,0 mm 3,7 mm
Polypropylene
std
1,8 mm
2,0 mm
2,2 mm
2,5 mm
2,5 mm
N-n, N-v - coating with low density polyethylene (LDPE) with regular -n and reinforced v- thickness
S-n, S-v - coating with high density polyethylene (HDPE) with regular -n and reinforced v- thickness
* - pipes of 21,3 mm diameter are available with N-n or S-n coating
3LPE anticorrosive three layer polyethylene coating conforming to DIN 30670:2012
Test type
Test conditions
Test results
Actual
Required by the
standard
"N"- LDPE
"S" - HDPE
Coating thickness
Ambient temperature
> min. required in line with the
DIN 30670
> min. required in line with DIN
30670
In line with DIN 30670,
depending on the pipe diameter
Coating tightness
Ambient temperature
No breakdown
at U=25kV
No breakdown
at U=25kV
No breakdown
at U=25kV
Adhesion of the coating to steel pipe surface
T = (23±2)°C
T = (50±2)°C
150-200N/cm
approximately 150N/cm
150-200N/cm
approximately 110N/cm
min. 35N/cm
min. 25N/cm
Coating resistance to impact
T = (23±2)°C
No breakdown
at U=25kV
No breakdown
at U=25kV
No breakdown
at U=25kV
Coating resistance to penetration
T = (23±2)°C
T = (50±2)°C
T = (70±2)0C
0,07-0,09 mm
0,15-0,19 mm
-
0,03-0,06 mm
-
0,12-0,15 mm
max. 0,2 mm
max. 0,3 mm
max. 0,3 mm
Coating unit elongation
at break
T = (23±2)°C
650-950%
900-1400%
min. 200%
Coating resistance to cathodic loss of adhesion
T = (60±2)°C
t = 48 h
U = -1,5 V
2-5 mm
2-4 mm
in line with the ASTM G8
standard < 8 mm
Coating resistance
T = (100±2)°C
t = 100 days
Positive result
Positive result
ΔMFR<35%
Coating resistance
to photooxidation ageing
t = 100 days
Positive result
Positive result
ΔMFR<35%
Coating unit resistance
T = (23±2)°C
t = 100 days
≥108Ωm²
≥ 108Ωm²
Rs ≥ 108Ωm²