Close
Select a product line: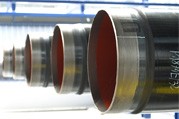 Anticorrosive coatings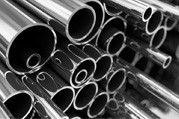 Steel pipes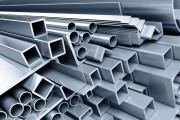 Metallurgical products
General Conditions of Sale

Spiral-welded
A
A
A
Steel pipes – spiral-welded
The pipes are manufactured in line with the following standards: EN 10208-2, EN 10208-1, DIN 1626, DIN 17120, API Spec 5L i EN 10219 and PN-79/H74244.

Outer diameter of spiral-welded steel pipes manufactured by Izostal S.A. ranges from 323.9 mm to 1422 mm; the pipes are delivered with straight or bevelled end faces. Tightness test and automatic, non-destructive ultrasound and/or radiological test (the latter at the customer's request) are carried out prior to delivery.

Upon arranging technical specification we deliver pipes of diameter and wall thickness values outside of the range specified in the abovementioned chart, provided the desired diameter value is within the outer diameter range of 323.9 mm and 1422 mm.. Minimum length: 4 metres; maximum length: 14.2 metres.

The pipes are made of killed, unalloyed and low-alloy standard, quality or special steel, depending on the required mechanical and technical performance as well as the intended use.

The pipes are delivered in black, without the protective coating, externally coated with extrusion moulded three layer polyethylene coating, additionally coated externally with cement and internally coated with epoxy or cement coating, in line with the customer's requirements.

Delivery of pipes with other anticorrosive protection requires earlier arrangements.
Delivery condition standard
Strength class or steel grade
PN-79/H-74244
G 235
G 295
G 335
EN 10208-1
L235 GA
L245 GA
L290 GA
L360 GA
EN 10208-2
L245NB/MB
L290NB/MB
L360NB/MB
L415NB/MB
L450MB
L485MB
DIN 1626
St 37.0
St 44.0
St 52.0
DIN 17120
RSt 37-2
St 37-3
St 44-2
St 44-3
St 52-3
API Spec 5L
B
X42
X52
X60
X65
X70
Outer diameter
Wall thickness mm/inch

mm

cal

323,9
12,75
5,0 – 10,0
0,197 – 0,394
335,6
14
5,0 – 8,8
0,197 – 0,364
357
18
5,6 – 11,0
0,220 – 0,433
508
20
6,3 – 14,2
0,248 – 0,559
559
22
6,3 – 14,2
0,248 – 0,559
6,3 – 12,5
0,248 – 0,492
610
24
7,1 – 14,2
0,280 – 0,559
7,1 – 12,5
0,280 – 0,492
660
26
7,1 – 14,2
0,280 – 0,559
7,1 - 12,5
0,280 – 0,492
7,1 – 11,0
0,280 – 0,394
711
28
8,0 – 14,2
0,315 – 0,559
8,0–12,5
0,315–0,492
8,0–11,0
0,315–0,433
8,0 – 10,0
0,315-0,394
762
30
8,0 – 12,5
0,315 – 0,492
8,0 – 11,0
0,315 – 0,433
8,0 – 10,0
0,315 – 0,394
813
32
8,0 – 12,5
0,315 – 0,492
8,0 – 11,0
0,315 – 0,433
8,0 – 8,8
0,315 – 0,346
864
34
6,3 – 12,5
0,248 – 0,492
914
36
6,3 – 12,5
0,248 – 0,492
1016
40
7,1 - 2,5
0,280 – 0,492
1220
44
7,1 - 12,5
0,280 – 0,492
1422
56
7,1 - 12,5
0,280 – 0,492