Close
Select a product line: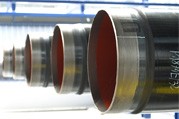 Anticorrosive coatings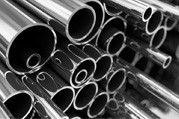 Steel pipes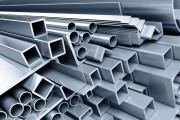 Metallurgical products
General Conditions of Sale

Seamless
A
A
A
Seamless
Izostal S.A. is a wholesale and retail provider of seamless steel pipes of domestic and foreign manufacturers.

The pipes are manufactured in line with the following standards:
EN 10208-2, EN 10208-1, EN-10216, DIN 1629, DIN1630, DIN 17120, DIN17175, DIN 2391, API Spec 5L, ASTM A53/A106 and PN-80/H-74219.

Outer diameter of seamless steel pipes manufactured by Izostal S.A. ranges from 21.3 mm to 508.0 mm; the pipes are delivered with straight or bevelled end faces. Tightness test and automatic, non-destructive ultrasound and/or radiological test (the latter at the customer's request) are carried out prior to delivery. Minimum length: 4 metres; maximum length: 13 metres.

The pipes are made of unalloyed or low-alloy standard, quality or special steel, depending on the required mechanical and technical performance as well as their intended use. The pipes are delivered in black, without the protective coating, externally coated with extrusion moulded three layer polyethylene coating, internally coated with epoxy coating (applicable for diameter over 168 mm), in line with the customer's requirements.

Delivery of pipes with other anticorrosive protection, including galvanised pipes, requires earlier arrangements.
Standard
Outer
diameter
Thickness
Length
Steel grade
(mm)
(mm)
(m)
PN-80/H-74219
21,3 – 273,0
2,0 – 10,0
4,0 – 12,0
R35; R45;18G2A
DIN 2448/1629
DIN 2448/1630
31,8 – 508,0
2,6 – 50,0
4,0 – 14,0
St. 37.0 – St 37.4
St. 44.0 – St 44.4
St. 52.0 – St 52.4
EN 10208-2
21,3 – 508,0
2,0 – 25
8 –18
L245 NB
L290 NB
L360 NB
L415 NB
EN-10216-1
EN-10216-2
EN-10216-3
EN-10216-4
21,3 – 406.4
2,0 – 25
6 – 14
P195 TR1/TR2; P235 TR1/TR2; P265 TR1/TR2
P195GH; P235GH; P265GH; 16Mo3
P275 NL/NL2; P355 N/NH; P355 NL1/NL2
P215NL; P255QL; P265NL
ASTM A64/A106
13,7 – 508,0
2,28 – 23,8
5,0 – 12,5
A; B
API 5L
219,1 – 508,0
7,9 – 23,8
5,0 – 12,5
B; X42; X46; X52; X60; X65