Close
Select a product line: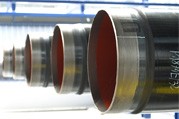 Anticorrosive coatings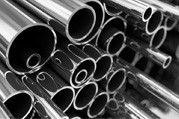 Steel pipes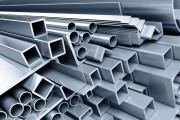 Metallurgical products
General Conditions of Sale
LAYTEC® internal coating
A
A
A
LAYTEC® internal coating according to PN-EN 10301:2006 and API RP 5L2:2002
Apart from external anticorrosive coating of steel pipes, Izostal S.A. offers a new product – internal coating which reduces friction of the medium (for example gas, oil and oil derivatives or water) flowing through the pipeline Parameters such as thickness, material type and its chemical composition are selected depending on the medium type.
The process of coating the internal surface of carrier pipes may be divided into the following stages:
cleaning of the pipe surface through blasting to Sa 21/2 cleaning degree, in line with PN-EN ISO 8501-1:2008, and Ry5 = 25 ÷ 60 µm surface roughness degree, in line with PN-EN ISO 8503-4:2012,
spraying the mixture onto the pipe surface in a continuous and uniform manner; coating thickness depends on requirements of the customer or the relevant standard,
storage of pipes until they feel dry upon touching – in ambient temperature or through heating,
storage and seasoning in order let the pipes dry sufficiently before transport.
Advantages of the internal coating of carrier pipes include the following:
reduced pipe surface roughness,
reduced pressure drop of the carried utility,
reduced friction in gas transport,
even flow of the utility,
increased flow capacity of the pipeline,
ultimate anticorrosive protection of pipes during storage and hydraulic test.

Minimal thickness of the internal epoxy coating is 38 µm.
LAYTEC® internal coating according to PN-EN 10301:2006 and API RP 5L2:2002
Test type
Requirements in line with standards
Result
SURFACE APPEARANCE
The coating should be of uniform colour, smooth, should be free of any discontinuities and other faults.
Uniform surface, smooth, without any faults, of uniform colour.
THICKNESS OF DRY FILM [μm]
38 – 100
75 – 85
DETACHMENT FROM THE BASIS TEST; cut grid method
Maximum failure of adhesion of the coating to the pipe surface should not exceed 5% of the cut area.
0
BUCHHOLZ HARDNESS
≥ 94
137
TRANSVERSE BEND TEST –
conic core
Maximum length of crack along the plate should not exceed 13 mm.
13
POROSITY TEST on glass plates
- wet film
- dry film
Maximum 1 pore
Maximum 5 pores
No pores
No pores
Hardening test
The coating should not display any softening or blowholes.
No blowholes or softening on the surface.